Exploring China
---
If you really want to develop your business in China, it is very important to understand its culture and its people. BTC will organize sightseeing tour for our overseas visitors to learn about the Chinese culture beyond what is provided by the official delegation.
---
Conferences
---
From time to time and on behalf of China district governments, we will invite overseas visitors to attend conferences. This is a great opportunity for overseas visitors to understand the rapidly growing China economy and the opportunities it provides.
---
Meeting with district governments
---
It is very important to gain in-depth knowledge about the Chinese government's policy and their orientation in future development .Therefore, it is essential to have the opportunity to meet with the highest district government authorities when you intend to invest at that region. BTC will organize meetings for the visitors to make acquaintance with key officials.
---
Social Environment
---
China, such a fast growing country! BTC will arrange for our clients to visit its expanding infrastructures and the surroundings of this country upon requested by our clients.
---
Factory Tour
---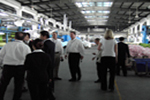 Upon requested by our overseas visitors, BTC can organize factory tours ranging from visiting small and medium size manufacturers to large-scale state owned enterprises.